Kanawha Manufacturing Company Power Products
Coal Yard Products and Services


Kanawha can replace or rebuild just about anything in your coal yard and water intake system that wears out. Here is a list of a few of our products:
Belt Feeders
Reciprocating Plate Feeders
Belt Conveyors
Screw Conveyors
Telescoping Chutes
Chutes, Bins, Hoppers
Gates
Clamshell Rebuild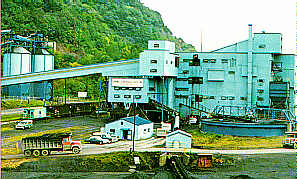 Barge Movers
Trash Screens (new & rebuild)
Trash Screen Sprockets (with replaceable chain wear inserts)
Trash Rakes
Stop Logs
Casings
Impeller Rebuild
---

About Kanawha Mfg. Co.

Ash/Exhaust Handling

Bunker to Boiler


Coal Yard and Water Intakes

Tube Shields


Product & Services

Maps, Mail & Phone Info

Inquiries


E-Mail

Home