Kanawha custom manufactures boiler tube shields to your specifications.
Stainless steels, including 304, 309, 310, 316 are used, in gages ranging from 24ga to 1/4" thick. You specify the material and thickness.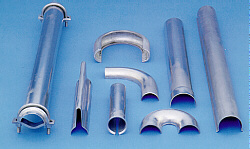 We do straights, inside bends, outside bends, and side bend shields. We can put belled ends, expansion joints, etc. on your shields.
Let us quote your tube shield needs. We can deliver what you want, when you want it.
Click here to download our Tube Shield Brochure!
---

About Kanawha Mfg. Co.

Ash/Exhaust Handling

Bunker to Boiler


Coal Yard and Water Intakes

Tube Shields


Product & Services

Maps, Mail & Phone Info

Inquiries


E-Mail

Home